Odometer info panel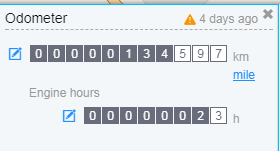 In this panel you can see:
The latest time of the mileage data, if the object is not already online, a triangle alert icon will be displayed.
The mileage can be calibrated by clicking the first edit button.
Click the mile button to switch the mileage unit and modify the current km to mile.
Engine hours, is the total duration of object ignition. You can perform the calibration by clicking the edit button on the left.